I am always looking for healthy dessert alternatives for Thanksgiving meals! I do love the occasional slice of pie, but sometimes the day of feasting leaves me wanting something slightly healthier for a sweet dessert. Here is something that is not only healthy, but beautiful! You can impress the pickiest of eaters with this gorgeous presentation and palette!
I found this recipe on Cook It Up Paleo – a site designed by a 19 year old girl with Celiac (she was 16 when she started it!) She has lots and lots of divine recipes and you can find even more delectable and different desserts here: http://cookituppaleo.com/category/courses/treats/crisps-and-cobblers/.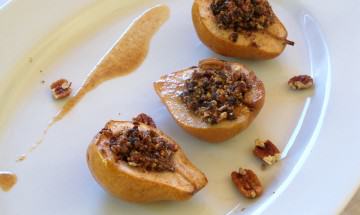 By: Heather Resler – original recipe can be found at http://cookituppaleo.com/cinnamon-baked-pears/
Yield: 4 servings
Ingredients
Filling:
whole raw almonds – 1/4 cup
raw pecans – 1/4 cup
dried cranberries – 2 tablespoons
ground cinnamon – 1 teaspoon
ground nutmeg – 1/4 teaspoon
coconut oil – 1 tablespoon, melted
pure maple syrup – 1 teaspoon
Syrup:
unsweetened apple juice – 1/4 cup
butter – 2 tablespoons
ground cinnamon – 1/2 teaspoon
Instructions
Cut the pears lengthwise in half and use a melon scoop, cookie scoop, or sturdy spoon to remove the cores.
Place in a 8×8 baking dish.
Preheat the oven to 400 degrees F.
In a mini food processor, combine all filling ingredients and process until finely chopped and mixed. Evenly scoop with filling into the hollowed-out pears.
Combine the syrup ingredients in a small saucepan and bring to a simmer. Pour half the syrup mixture over the pears.
Bake the pears for 25 minutes.
Serve the pears warm with a drizzle of the remaining syrup.